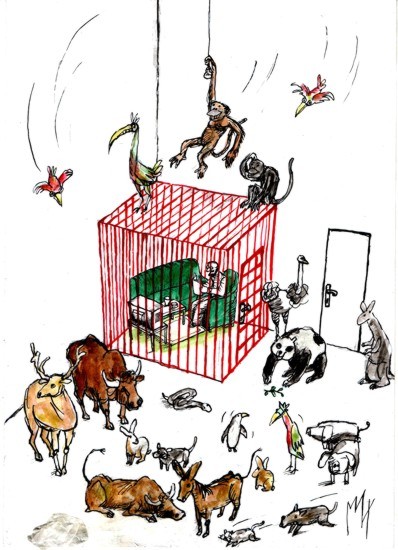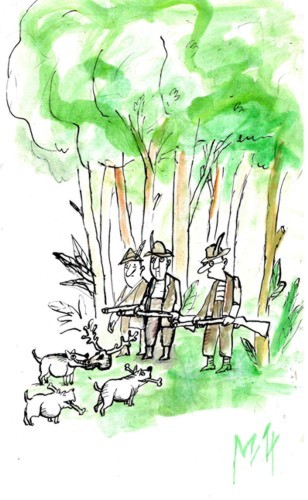 Muhamed Đerlek
Maks
SRBIJA
From My Corner
Why "From My Corner"? Because I don't like anyone "serving" me the truth. I want to reach her alone. I have designed my own angle from which I observe and interpret the world in an effort to be objective, to clear my judgment of what has been seen and experienced, of emotions and all that could make my commentary (caricature) make sense of subjectivity. Then I'm sure that what I'm doing is worth the benefit of someone. And so, in my own way, I reflect on the essential qualities of human character, on constant steady relationships, and like Robin Hood instead of sword, caricature, I break the smile of those who robbed the smile of the people and bring that smile back to the people. And I do it all from "My Corner."
Muhamed Đerlek Max (1953, Novi Pazar, Srbija). Karikaturista i dizajner.

Iz mog ugla
Zašto "Iz mog ugla"? Zato što ne volim da mi bilo ko "servira" istinu. Želim da do nje dođem sam. Osmislio sam svoj ugao iz kog posmatram i tumačim svet trudeći se da budem objektivan, da očistim svoj sud o viđenom i doživljenom, od emocija i sveg onog što bi moglo da učini da moj komentar (karikatura) obesmisli subjektivnost. Tada sam siguran da ono što radim vredi i da koristi nekom. I tako na svoj način promišljam o suštinskim odlikama ljudskog karaktera, o konstantnim ustaljenim odnosima i poput Robina Huda umesto mačem, karikaturom, otkidam osmeh od onih koji su od naroda oteli osmeh i taj osmeh vraćam narodu. I sve to činim iz "Mog ugla".
Muhammad Jerlek Max (1953, Novi Pazar, Serbia). Cartoonist and designer.