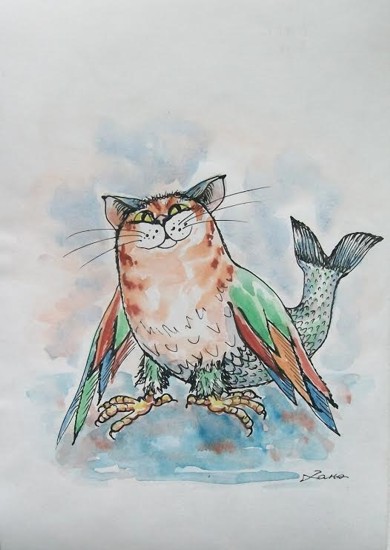 Universal pet
Danja Doroški
EDUCATION: Faculty of Philology, Belgrade. She is fluent in the following languages: Serbian, Italian, English, French, German, Russian, Macedonian, Croatian, ...

WORK EXPERIENCE: Translator and court interpreter for 35 years.

PAINTING: She has been working more intensely on the beautiful art since 2011. She is a member of several Fine Artists Associations. So far she has had five solo exhibitions, and she has participated in more than 120 group exhibitions of amateurs or academic painters, of which more than 50 juryed internationals, in numerous Belgrade galleries: Academy 28, Art Center, Dom Vojske, Dom Djure Jakšića, Dom Aviation, Municipal Gallery Vračar, Kralja Petra I House, Resavska Gallery78, Gallery 73, Emigrant's Matrix, Jewish House, Railway Salon, as well as in cultural centers throughout Serbia such as Cultural Center Šabac, Omoljica Cultural Center, DK Priboj, Golubac, Raska, Stara streljaj Novi Sad, Kruševac, Sopot ... She received several awards and praise, at two amateur shows her works are shortlisted ... She participates in humanitarian exhibitions and fine art colonies. At Dorćolijada Association, according to his own project 'Creative Atelier', he volunteers workshops for various techniques of fine arts and applied arts, and leads the workshop of Tehnika akvarela.
She has been involved in caricatures since 2015, she has been accepted at the international competition Zlatna kaciga and Animal cartoon, she has been published in Jež and Etna, she is a member of the FECO Serbia Association. Fine art, including the caricature, considers endless search for meaning, truth, and beauty in which he tries to make a harmonious blend of versatile painting techniques with personal sensitivity and reflection.
OBRAZOVANJE: Filološki Fakultet Beograd. Služi se sledećim jezicima: srpski, italijanski, engleski, francuski, nemački, ruski, makedonski, hrvatski, ...
RADNO ISKUSTVO: Prevodilac i sudski tumač 35 godina.
SLIKARSTVO: Intenzivnije se bavi lepom umetnišću od 2011. godine. Član je nekoliko Udruženja likovnih umetnika. Do sada je imala pet samostalnih, a učestvovala na preko 120 grupnih izložbi što amatera što akademskih slikara, od toga preko 50 žiriranih medjunarodnih, u brojnim beogradskim galerijama: Akademija 28, Art Centar, Dom Vojske, Kuća Djure Jakšića, Dom vazduhoplovstva, Galerija opštine Vračar, Kuća Kralja Petra I, Galerija Resavska78, Galerija 73, Matica iseljenika, Jevrejski Dom, Salon Železnice, kao i u centrima kulture širom Srbije kao što su Kulturni centar Šabac, Dom kulture Omoljica, D.K. Priboj, Golubac, Raška, Stara streljana Novi Sad, Kruševac, Sopot ... Dobila nekoliko nagrada i pohvala, na dve smotre amatera njeni radovi ulaze u uži izbor.... Učestvuje na humanitarnim izložbama i likovnim kolonijama. Pri Asocijaciji Dorćolijada, po sopstvenom projektu 'Kreativni atelje', volonterski organizuje radionice za različite tehnike likovne i primenjene umetnosti, a sama vodi radionicu Tehnike akvarela. Od 2015. se bavi karikaturom, prihvaćeni su joj radovi na medjunarodnim konkursima Zlatna kaciga i Animal cartoon, objavljivala ih je u Ježu i Etni, član je Udruženja FECO Srbija. Likovnu umetnost, uključujući tu i karikaturu, smatra beskrajnim traganjem za smislom, istinom ali i lepotom u kome pokušava da napravi skladan spoj razlličitih slikarskih tehnika sa ličnim senzibilitetom i promišljanjem.